Back in 2020, I was a marketing coordinator at a fast-paced SaaS who had just lost her job AND a travel blogger desperately in need of an income—all "thanks" to Covid-19. When searching for a way to make some quick bucks online, I found the idea of blog flipping and got intrigued.
I did some research and found that blog flipping could be a great way to make money, especially during tough times like these. After several months of reading and searching for more information about blog flipping, I decided to give it a try.
First, I created a free account on Flippa and bought two domains—one to build up and flip and one to flip ASAP as-is. I started listing domain one and got an offer within a month. After some negotiation, I agreed to sell it for $89. Not too bad for my first flip since the investment was less than $10 for a .com domain from Namecheap.
The second domain was a bit more challenging. I created a website from scratch, kept it for a few months, and finally listed it for $800 but didn't get any bites after TEN months. In month eleven, I eventually had an offer of $525 for the website, which I accepted.
Encouraged by my first success, I decided to put more effort into flipping blogs and started to learn about building, ranking, and quickly monetizing a website. I also started reading more case studies of successful flips to get an idea of what buyers are looking for.
Fast forward to 2022, I've been in this business for a couple of years and made it my full-time income, my husband quit his job to take care of the kids and help with the financial side of the business, and I have just become the breadwinner of the family.
So, if you're still on the hunt for a way to make money online or just want to give blog flipping a try, here's a comprehensive guide on how to start your own blog flipping business.
How to Start a Blog Flipping Business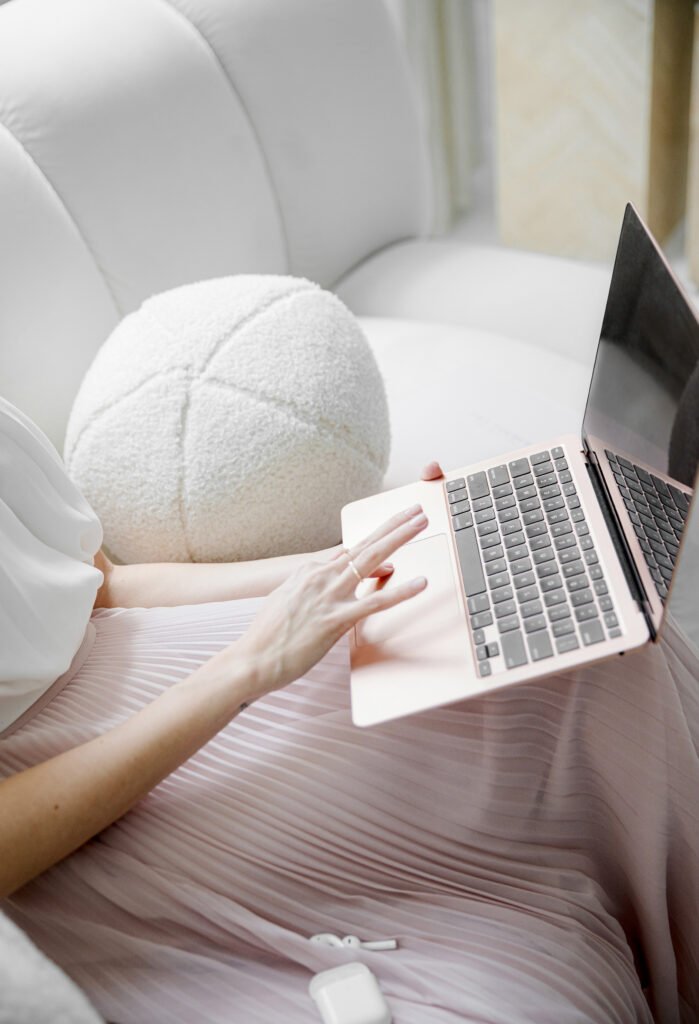 First Things First, What Is Blog Flipping?
In simple terms, blog flipping is the act of buying, improving/growing, and then selling an existing website or blog. Just like any other business, your goal as a blog flipper is to buy low and sell high. Your job is to find an undervalued website, add value to it, and then sell it for a profit.
To be a successful flipper, you don't need to be an expert in any particular niche or topic. However, it will help if you have some basic knowledge about SEO, website design, and content creation since you'll be responsible for growing the blog before selling it.
It's also important to note that blog flipping is not a get-rich-quick scheme, and it will take time, effort, and money to see any results. However, if done correctly, it can be a great way to make an extra or full-time income.
Why Should You Start Blog Flipping?
There are many reasons why you should start blog flipping, but here are some of the most common ones for you to consider:
You can make a lot of money. You can profit significantly from flipping blogs if you buy right and sell at the right time.
It's a relatively low-risk business. Unlike other businesses, you don't need to invest much money to start.
It's a relatively easy business to run. Once you have a system in place, it's not difficult to find and buy blogs, improve them, and then sell them for a profit.
You can fully control your business and scale it as big or small as you'd like.
You can work from anywhere in the world. Since blog flipping is an online business, you can run it from anywhere worldwide as long as you have an internet connection.
I started blog flipping after I've tried everything else—freelancing on Upwork, selling on Etsy, blogging about blogging (that's a highly competitive niche to blog, in case you ask), publishing with KDP—and failed. I was looking for a business that I could run on my own time, be my own boss, and make a full-time income. And blog flipping has given me all of that and more.
After two years of working full-speed and wholeheartedly in this business, I made slightly over six figures in gross income last year and encouraged my husband to quit his day job.
Of course, my success doesn't mean you'll have the same result, but it's possible to make a good living from flipping blogs. Nor does it mean that it's easy to start and run a successful blog flipping business. It takes time, effort, and dedication like any other business.
I've worked wholeheartedly on this business for the past two years and still learn new things daily. In this comprehensive guide, I'll be sharing everything I've learned about blog flipping — from finding profitable blogs to flipping them for a profit — in the hope that it will give you a head start in this business.
How to Find Profitable Blogs to Flip
Now that you know what blog flipping is and why you should start a blog flipping business, it's time to learn how to find profitable blogs to flip. Here are some tips for you:
Use Google AdWords Keyword Planner
One of the best ways to find profitable blogs is to use Google AdWords Keyword Planner. This free tool allows you to research keywords and get traffic estimates for those keywords.
I recommend reading this step-by-step guide by Monster Insights for a complete walkthrough to learn how to use this tool.
Look for blogs that are not ranking on Google
Another great way to find profitable blogs is to look for ones not ranking in Google. There are many reasons a blog may not be ranking, but it's often because the owner has neglected the SEO of their site. This presents an opportunity for you since you can buy the site and then improve the SEO to get it ranking on Google.
You can use Ahrefs' Site Explorer tool to find these kinds of blogs. Just enter a seed keyword into the tool and then click on the "Non-ranking" tab at the top of the results page. This will show you all the sites that are not ranking in Google for that keyword.
Check out expired domains
Another great way to find profitable blogs is to check out expired domains. These domains have been registered but then allowed to expire by the owner. Often, these can be scooped up for a low price and then used to start a new blog.
To find expired domains, you can use a tool like ExpiredDomains.net. Just enter your seed keyword into the search bar and then click on the "Expired" tab at the top of the results page. This will show you all of the expired domains that are related to your keyword.
These are just a few of the many ways that you can find profitable blogs to flip. In the next section, I'll show you how to evaluate a blog to see if it's a good candidate for flipping.
Where to Find Blogs to Flip
Now that you know how to find profitable blogs, it's time to start looking for ones to flip. There are several reputable places where you can find blogs for sale, such as:
Flippa is one of the most popular marketplaces for flipping websites and blogs. It's a great place to find all kinds of sites for sale; many of them are very affordable.
FE International is another popular marketplace for flipping websites and blogs. They tend to have a higher quality listing than Flippa but are also more expensive.
Empire Flippers — They have a strict screening process for the sites they list, so you can be sure that you're getting a quality site when you buy from them.
Motion Invest — This one is similar to Flippa, but they focus specifically on eCommerce sites & they go the Dutch auction route which can sometimes result in a lower purchase price.
Blogs for Sale — Chelsea Clarke from Her Paper Route has a great list of sites you can find on her boutique brokerage.
Websites Flipping — Finally, this one is MINE, where I list my own high-quality and exclusive sites in a wide range of niches.
Each of these websites has a different selection of blogs for sale, different niches, and different prices. So, it's a good idea to check out each of them to see which has the best selection for your needs.
How to Evaluate a Blog to See If It's Worth Flipping
Once you've found a blog that you're interested in flipping, the next step is to evaluate it to see if it's a good candidate. There are several factors you should consider, such as:
The niche — Is the niche profitable? Do people spend money in this niche?
The traffic — How much traffic does the site get? Where does that traffic come from?
The income — How much money does the site make? Is the income consistent?
The expenses — How much does it cost to run the site? Are there any unusual expenses?
The age — How old is the site? Older sites tend to have more traffic and more income.
The content — Is the content high-quality? Does it provide value to the reader?
The design — Is the design professional? Does it look like it was done by a professional designer?
These are just a few factors you should consider when evaluating a blog to see if it's worth flipping. If you're looking at listings on Flippa or eBay (yes, they have blogs for sale there, too), it may take a lot of time to go through all of these factors for each listing. There are scammers who are just looking to take your money, so you need to be careful.
However, if you opt for more high-end marketplaces like FE International or Empire Flippers, the sites listed will have already been vetted for you so that you can be sure you're looking at a quality site. Private brokerages also provide this service and can hand-pick sites that fit your investment criteria.
And of course, if Websites Flipping is your cup of tea, then you're in good hands because it's 100% me hand-picking each domain and niche, creating the content, and designing the sites. You're getting a turn-key site ready to start making money from day one!
When evaluating a blog, it's important to look at the whole picture. You need to consider all of the factors I mentioned above and any other factors that are important to you. Once you've done that, you'll have a good idea of whether or not the blog is worth flipping.
How Much Money Can You Make from Blog Flipping?
The amount of money you can make from blog flipping depends on many factors, such as the niche/topic of the blog, the traffic it receives, and its monetization method. The quantity and quality of the content also play a role, as does the age of the blog.
A good rule of thumb is that you can expect to make anywhere from 12, 24, or even 36 months' worth of income from the sale of a blog. So, if the blog makes $500/month, you can expect to sell it for $12,000 – $24,000.
Of course, there are always exceptions to the rule. It depends on the blog itself and what the buyer is looking for. Generally speaking, you can expect to make anywhere from $500 to $100,000 from flipping a high-quality blog.
One factor determining how much money you can make from your blog flipping business is how many sites you have for sale at any given time. If you only have one or two blogs, it may take longer to sell them. But if you have a portfolio of five or ten sites, you're more likely to find a buyer quickly.
I list my sites on Flippa (starter niche sites with pre-written, white-label content), my business website (high-quality, exclusive sites), and several other brokerages. And let's say I have a portfolio of 30 – 40 sites per month—that means my chances of generating good income are much higher than if I only had one or two sites for sale.
It's also important to note that you don't necessarily need to wait until you have a complete portfolio of sites before you start listing them for sale. You can start with just one site and go from there. The point is to get started, and things will start to snowball.
The key to making good money from blog flipping is to start with high-quality sites that are in demand by buyers. If you do that, you'll be well on making a high income from your blog flipping business!
Conclusion
Starting a blog flipping business may not be something you've considered, but it can be a great way to make money. By flipping blogs, you can make a lot of money relatively quickly, and you don't need a lot of start-up capital.
If you're interested in starting a blog flipping business, subscribe to my blog for more tips and tricks! And if you have any questions, feel free to leave a comment below. I'd love to hear from you!
PS If you're looking for a ready-made, turn-key solution, check out my business: Websites Flipping. It's a done-for-you service that hand-picks sites, builds the content, and designs the sites for you. You're getting a fully functioning site ready to start making money from day one!